John Wyndham: A BBC Radio Drama Collection: Six classic BBC radio adaptations
Unabridged Audiobook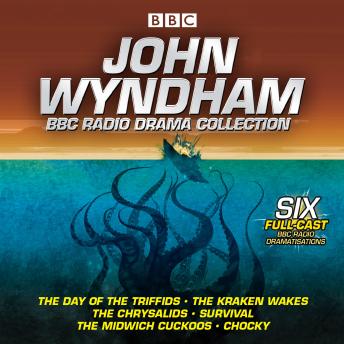 Duration:
11 hours 0 minutes
Summary:
Bill Nighy, Sarah Parish, Barbara Shelley and Peter Sallis are among the cast in these six classic BBC Radio dramatisations.

John Wyndham's quietly menacing post-apocalyptic tales are enduringly popular, and these gripping, atmospheric radio adaptations of his classic fiction are resonant with terror and suspense. In

The Day of the Triffids, first broadcast in 1968, most people have been left blind after a meteor shower, and lethal carnivorous triffids are roaming the land.

The Kraken Wakes, dramatised for radio in 1998, is a thrilling story of monsters from the deep, alien invasion and ecological disaster.

The Chrysalids, first broadcast in 1981, explores the dangers of being different, while the 1989 adaptation of short story Survival focuses on the lengths people will go to in order to survive.

The Midwich Cuckoos, broadcast in 2003, is a disturbing tale of a village sealed off from the world for a day, and subsequently taken over by terrifying, inhuman children.

Dramatised for radio in 1998, Chocky is a chilling tale of a boy who appears to be communicating with an invisible friend.

Also included is Beware the Stare! a half-hour BBC Radio 4 documentary looking at The Midwich Cuckoos in print and on screen.

Note: These are the BBC Transcription Services versions of The Day of the Triffids, prepared for
sale to overseas territories. At the time, 12 minutes of material was deleted from these episodes to bring down the running time. However, these deleted scenes have been recovered and are included as bonus extra content at the end of the final episode of The Day of the Triffids.
Genres: