Open Mind
Unabridged Audiobook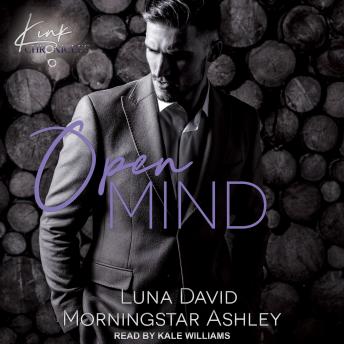 Duration:
7 hours 27 minutes
Summary:
At twenty-eight, Jamie Gray has realized his dream of becoming a traveling nurse. After years of moving from place to place, he's met so many new people but hasn't formed any true connections. Jamie knows it's time to stop avoiding his life, like he's been doing since the death of his mother; his only family. Moving to the big city of Powell's Point to share an apartment with his best friend is exactly what he needs. It feels like the best time to set down some roots and get into a routine . . . and maybe, just maybe find love.

Ronan Kincaid comes from a long line of doctors. Not being one to conform to the desires of his parents or society, his small practice focuses on the people in the BDSM community of Powell's Point. Often misunderstood, the community needs someone who knows and lives their lifestyle . . . someone who will take care of them the way they deserve.

With his well-respected practice and exceptional bedside manner-coupled with after hours scenes and kinky house calls-the nickname Dr. Kink takes hold, much to his dismay. Needing to replace his long-time nurse, he hires the best candidate for his growing practice.

Contains mature themes.
Genres:
1 of 1 people found this review helpful.